If this hasn't netted your attention yet, it's high time you gave it some thought. The study of mind or mental attitude or psychology as you know it has a bigger part to play in the business world than some people realize. It is imperative for a seller to get into the mind of his buyer to drive actions. Be it marketing or advertising, keeping some psychological rules handy might provide your enterprise with the much needed boost, sending your business on an upward scaling in the graph.
Following are the ways you can incorporate psychology into Digital marketing and take your corporation to newer heights:
Persuasion Architecture
Any being with a brain tends to choose a path of goal attainment that is easy and possible. Bringing into use this "Principle of least effort", marketers can lead the consumers to take actions. Since not many people follow lengthy blogs or emails and chuck a major portion of it, the designers could include designing schemes that shall persuade the buyer into conversion, like the inclusion of visual cues.
Emotion-driven Behavior
Studies suggest that buyers make purchasing decisions based on emotions and 90% of times they even fail to realize having done so. Humans tend to have an inclination towards anything that they can relate with emotionally. Incorporating the "Theory of Ground Cognition" into marketing, compelling stories, imageries and taglines can assist in drawing buyers' attention towards the agenda.
Scarcity and loss aversion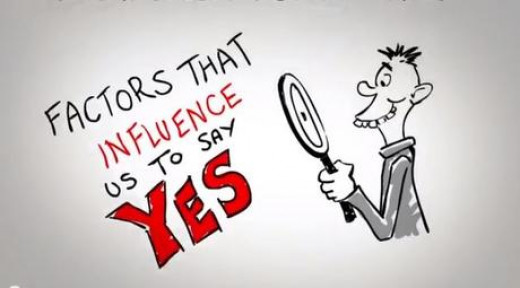 As is seen Economics, a fall in supply, tends to increase the purchases as people take to stocking things up when some commodity is rumored to run out of market. Something similar is explained by the psychology of scarcity or losses. Adding tags that draw out customers such as "Hurry, offer for a limited period" or "First come first serve" are tactics that shall bring profit to your firm.
Commitment and Consistency
As per the rules of Psychology, people like keeping a clean trustworthy image and hence hardly go against a principle or break a commitment. Using this to the firm's advantage, companies seek out commitments from their potential buyers by asking them to create accounts, register or subscribe with the brand so that the buyer makes purchases from the company itself.
Social proof
We have a tendency to follow the herd, which is we take up things or trends that are popular with a majority of the population. Larger groups or majorities also draw maximum attention that too without much effort. Increasing clicks, likes, follows up is the way to go.
Reciprocity
Offering something valuable in exchange for some data from your buyers can actually persuade them to reciprocate your action and participate in the exchange process. The principle of reciprocity was observed to have been assimilated by GAP, when it provided 15% discounts to its buyers in exchange for signing up its newsletter.
Anchoring
Also explained in psychology as heuristics, this theory explains that people bank on the first piece of information they receive about anything and that is what they focus on when making decisions. Ever wondered why first impressions are that important? Well, this is why. They bias the minds. For instance, if the price of a good is announced to be Rs.10 and later the value is disclosed to be 5, people shall consider it to be very affordable because of the first impressions they have about the commodities' price.
Now you are business ready!
Share Your Thoughts
comments